k-1000c RGBW LED Controller
K-1000C Addressable Programmable Controller with SD Card, WS2812B WS2815 SK6812 WS2811 WS2801 LED Strip LED Matrix LED String 1536 Pixels Controller, DC5-24V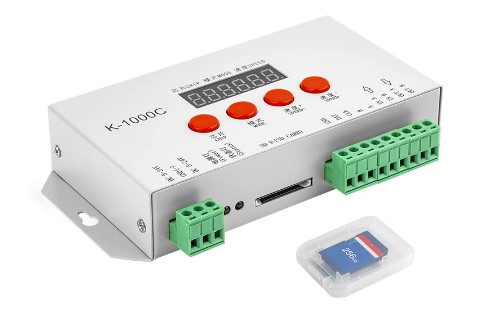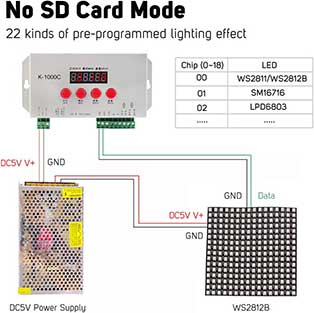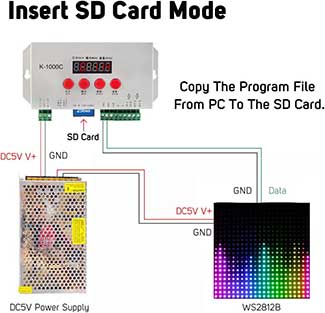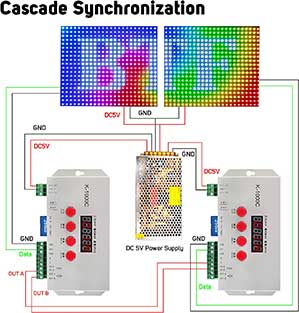 【Professional K-1000C controller an upgrade of T-1000S】 It supports all the smart IC on the market . Including WS2812B,WS2811,WS2813,SK9822,SK6812RGBW,APA102C,WS2801,etc . All the dual data led chip , data and clock led chip,single data led chip. It is suitable for engineering projects or customers' DIY project .Support SD card 128MB-32GB. Install LEDEDIT software on window computer.Can not work with Mac

【Great for DIY Project】It supports LED strip/ LED matrix panel/Special-shaped/different data directions project. Various special lighting effect. like effects-firework ,chasing,rainbow,scrolling text,single color,full color,running etc . There is a lighting effect library in the LEDEdit software . You also can use some videos/pictures as your own lighting effect library .

【Cascade Synchronization】There is one port on it, it can support 1536 pixels(DMX LED 512 pixels). Cascade Synchronization is for large pixels projects .We can cascade many controllers. There are K4000C controller max control 4000 pixels , K8000C controller max control 8000 pixels ,if you need please contact us .

【Refresh Rate】 512 pixels 30 frames/second, 1024 point pixels 25 frames/second and 1536 pixels 15 frames/second. Max control WS2812B 1536 pixels.Usually we recommend 1000-1500 pixels. More pixels will decrease the speed of data transmission.